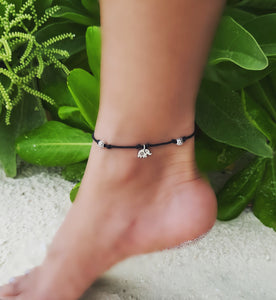 Why do you need some Elephant energy in your life...🐘 💝
1.
Elephants are physically strong and they are resilient, they also carry an innate tenderness and can be quite sensitive too. This can be a reminder to honor both sides of yourself. 😍
2. Wearing elephant jewelry is known to bring positive energy to the wearer and keep unwanted vibes away. 🧘‍♀️
3.
The trunk of an Elephant carries a story of it's own.
•
Trunks up signify wealth. They also bring peace and patience into your space. 🕊
•
Trunks down signify knowledge and strength, helping you to push through various barriers and overcome difficult challenges.
•
Intertwined trunks express a token of love, romance, and even friendship. Similar to that of a hug, Elephants intertwine their trunks when they meet to show affection.👭
Elephants help you realize your true nature and the strength you hold within. And remind us to be playful when we start taking life too seriously! 🌞
Price is for a single anklet
This is a tying anklet without hooks
Material : Nylon thread & Tibetan silver charms
Length : Adjustable between 9-10.5 inches
Ships within : 2 days
Product care: Don't give me a bath regularly cuz I get tanned (avoid prolonged contact with water.)
I don't need oxygen to survive ( store in zip lock when not in use. )