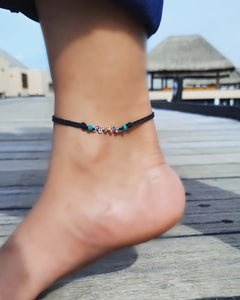 Why do we call it the full power evil eye anklet?

Each colored evil eye represents a different energy. It is one of the strongest symbolic images in the world. This anklet has all the colors in one,making it one full of positivity and abundant in energy for the wearer.

💫 Turquoise represents good health & abundance of wealth.
💫Orange represents Protection
💫Black represents Power
💫Red represents Courage
💫 Amethyst represents Intelligence
💫Green represents Happiness
💫Pink represents Protection of friendships
💫White represents new beginnings
💫Dark Blue represents good fate and karma

This is a perfect gift for you or someone special in your life for whom you only wish lots of positive and happy energy.
Price is for a single anklet
Material : Cotton cord & Tibetan silver charms
Length : Adjustable between 9-10.5 inches 
Ships within : 2 days
Product care: Don't give me a bath regularly cuz I get tanned (avoid prolonged contact with water.)
I don't need oxygen to survive ( store in zip lock when not in use. )