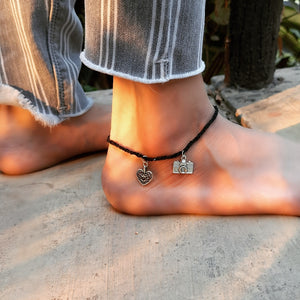 Have you ever wondered why we click so many pictures? Well, we'd say you should pick up any picture from a few years ago and watch the memories unfold, feel yourself going back to that exact special moment . 💫🥰
A picture has the magic to make a moment last forever...
This one's for everyone who capture those beautiful crazy moments of life with love.♥️
For the ones who love to immortalize that forever moment in an image.
For those who believe in keeping memories alive, where life stands still and a story unfolds.
Price is for a single anklet
Material : Cotton thread & Tibetan silver charms
Length : Adjustable between 9-10.5 inches
Ships within : 2-3 days
Product care: Don't give me a bath regularly cuz I get tanned (avoid prolonged contact with water.)
I don't need oxygen to survive ( store in zip lock when not in use. )