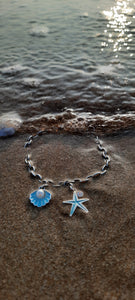 Sometimes its the little things in life that inspire us. I'm sure you've had those moments where you've been enchanted by the beauty and magic of nature. ✨
We had a similar experience when we watched this gorgeous sunset and these adorable starfishes covered in sand chilling at the shore, waiting to be washed back into the ocean by the waves.🐚
This bracelet was inspired by this day and we went back to photograph it at the same spot.

If you've had any similar experiences please do let us know . Let the magic flow 🌊
Price is for a single bracelet 
Material : Silver coated chain & Tibetan silver charms
Length : Adjustable
Ships within : 1-2 days
Product care: Don't give me a bath regularly cuz I get tanned (avoid prolonged contact with water.)
I don't need oxygen to survive ( store in zip lock when not in use. )