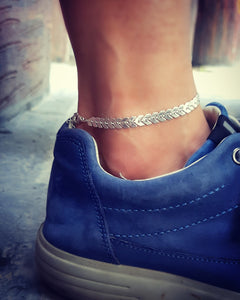 Arrows represent an array of meanings, each versatile and unique. Many people adore this dynamic symbol.
The five most prominent meanings for arrows are:

➡️ Warrior strength and courage

➡️ Following your dreams

➡️ Forward moving life path

➡️ Safety and protection

➡️ Shooting for the stars  

🏹 Arrow jewelry and accessories make unique gifts!
Price is for a single anklet
Material :  Tibetan silver chain
Length : Adjustable between 9-10.5 inches
Ships within : 2-3 days
FREE SHIPPING IN INDIA 
Product care: Don't give me a bath regularly cuz I get tanned (avoid prolonged contact with water.)
I don't need oxygen to survive ( store in zip lock when not in use. )