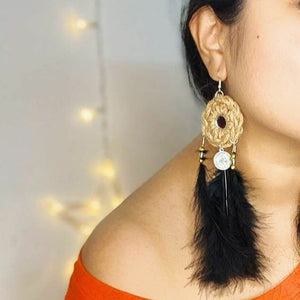 Feathers = limitless and boundless . They remind you of how you can soar freely in life. Every feather you come across or wear or get drawn to usually has a hidden meaning. A black feather can mean that your angel is gifting you with magical knowledge and wisdom beyond this world and that you must remain open to new learnings and insights that will come your way.It also symbolises that your angels are protecting you.
✨The colours are so subtle that they can be used to create a classy or boho look and they go with the whole vibe and meaning of black feathers.
The jute and mirror give out a very ethnic feel and the fusion pieces create major fashion statements and are always in trend and can be styled in a million fun ways.
Material : Feathers, Jute , mirror & beads
Ships In : 2 days
Product care: Don't give me a bath regularly cuz I get tanned (avoid prolonged contact with water.)
I don't need oxygen to survive ( store in zip lock when not in use. )
Keep feathers straight to maintain shape & quality
#featherearrings #earrings #bohojewelry