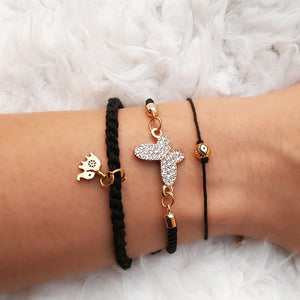 There is something enchanting about a black bracelet. 🖤💫
Black jewelry pieces are deep and filled with emotions. They add an edgy yet classy element to any outfit.
This black trio is perfect for today's diverse and powerful women.
Material : Zinc Alloy , zircon gemstones and adjustable woven yarn.
Size: All 3 braceletes are adjustable upto diameter of 21 cm
Ships In : 2 days
Product care: Don't give me a bath regularly cuz I get tanned (avoid prolonged contact with water.)
I don't need oxygen to survive ( store in zip lock when not in use. )