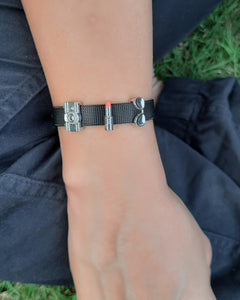 What we love about charm bracelets is that there is so much room to express different parts of yourself.
Not only is this charm bracelet a highly trending piece of jewellery, it reflects your personality or journey in life. 💫
This bracelet is very versatile. Our favorite part about it is that each charm is detachable. You can remove any and put it in a chain around your neck or ankle. 
Charms show off your interests such as a hobby or love of animals or fashion or nature...and can commemorate a special occasion. Even the shortest of glances at your charm bracelet can stir up your emotions, making you fondly reflect on events of the past.
Here's what this one depicts:
💄 -Your right to self definition
🕶 - Style and Glamor (you know you've got it) 😎
📷 - All the beautiful moments you behold 🥰
Material : Zinc Alloy with adjustable buckle strap
Length : Adjustable buckle strap
Ships In : 2 days
Product care: Don't give me a bath regularly cuz I get tanned (avoid prolonged contact with water.)
I don't need oxygen to survive ( store in zip lock when not in use. )