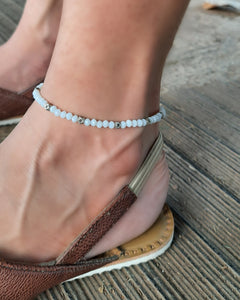 Bring in calm, relaxing and classy vibes to your outfit.
The white beads represent that while life has its highs and lows, every point in between is just as meaningful - these points make up the fabric of your own story. It is to remind you of all the love and positivity in and around you. 💫
"There is no way to happiness ; happiness is the way."
Price is for a single anklet
Material : Glass beads
Length : Adjustable between 9-10.5 inches
Ships within : 2-3 days
Product care: Don't give me a bath regularly cuz I get tanned (avoid prolonged contact with water.)
I don't need oxygen to survive ( store in zip lock when not in use. )