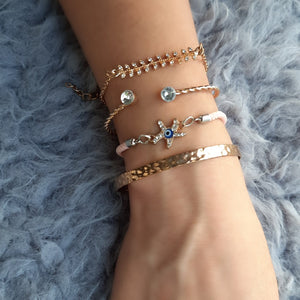 The latest jewelry trends are all about creating unique and personal looks.
Stacking your jewellery is one trend that is here to stay and makes styling super fun.
Our stacked up sets are made of pieces that can also be worn as single stunning statement bracelets.💃📿😍
Layering two or more pieces of jewellery to create a new look is a great way for your outfit to shine, to flaunt your style and personality. Not to mention, the possibilities are endless and beautiful. 💫
Material : Zinc Alloy , zircon gemstones and adjustable woven yarn.
Size: All 4 braceletes are adjustable upto diameter of 21 cm
Ships In : 2 days
Product care: Don't give me a bath regularly cuz I get tanned (avoid prolonged contact with water.)
I don't need oxygen to survive ( store in zip lock when not in use. )